Workshops
CAMBRIDGE, SCIENCE FESTIVAL 2012
ROCKFLUID, INTERFACING WITH MEMORY
Caterina Albano, Elena Cologni, Lisa Saksida
Department of Experimental Psychology, University of Cambridge, Sat 17 March 2012, Science Festival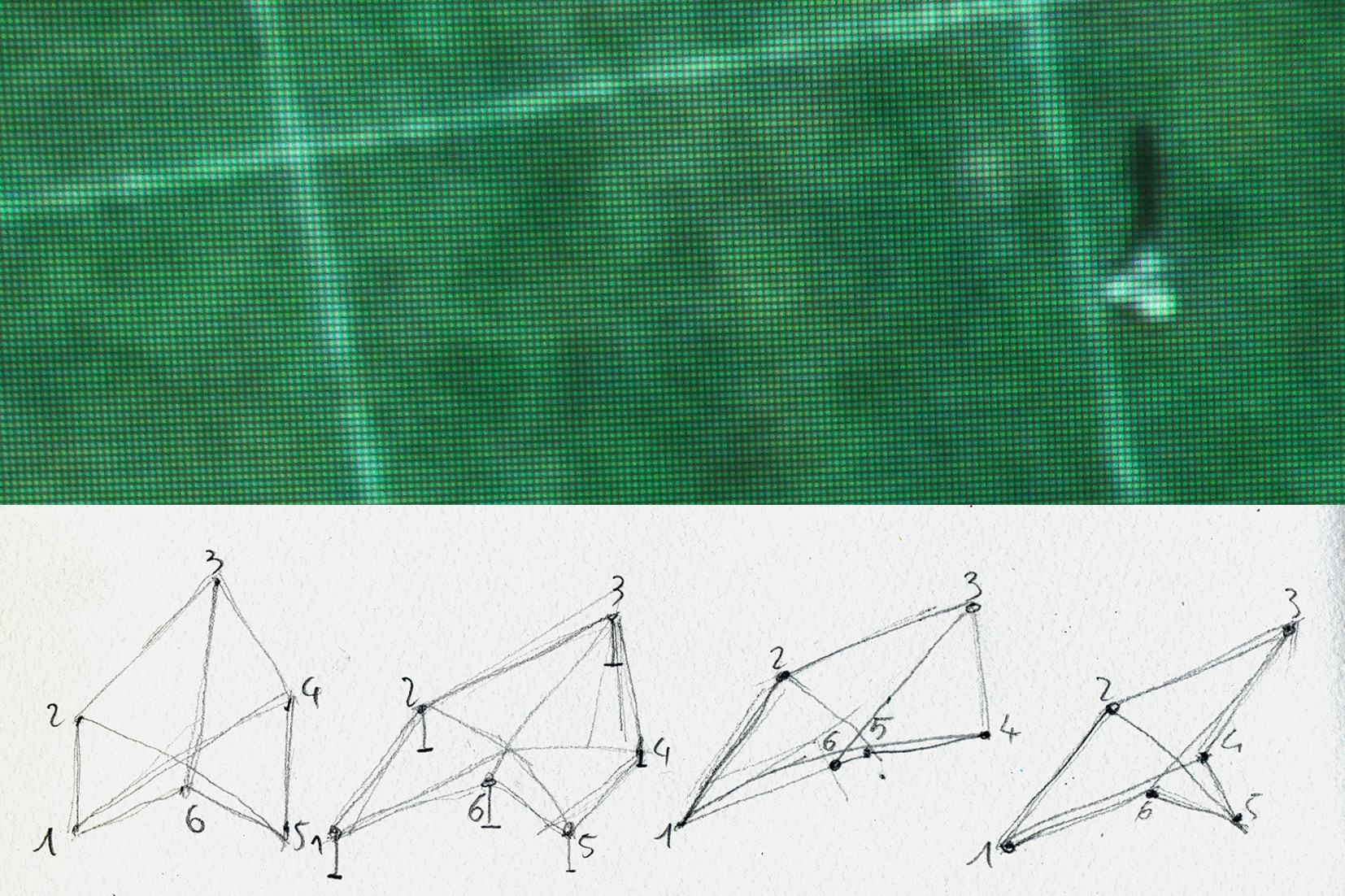 workshops, Ages +12
How does technology effect our perception and memorisation of place? Starting from a memory exercise, the activity will highlight similarities and differences between our mnemonic archive and a database, through a journey intersecting psychology, geometry, performance and sculpture. The current alienation of the individual induced by a technology dominant economy is based on an urge to cut the distance over time and space in today"s communication systems. The artistic manifestations of the project attempt to create possibilities for encounters in shared physical spaces where we experience the environment through moving our body/mind in space thus regaining and defining our places (psycho-geography,relational tactics). The work produced interrogates for example on how digital time has influenced our sense of subjective time. This will be done by breaking the accepted relation memory-past and focus on the present moment of recollection. With the current obsession over constantly documenting our lives, we may feel (and fear) that we cannot do the same with memory. By proposing that we do change our memories in the present by recollecting them, we may find in this very quality of instability of memory our 'place'.
Artist Elena Cologni and Scientist Lisa Saksida have had a year long collaboration for this awarded project which explores the 'materiality' and 'spatiality' of memory through psychological and artistic tools. This collaboration, starting from shared issues in similar context, aims at attempting an exchange between Art and Neuro-Psychology based on the status of objects, time and space embodiment.
This collaboration is based on the consideration of memory in its 'fluid' and 'solid' states, as Dr Saksida suggests referring to the recollection of events. Memory in its archival state would be solid, and, when in the process of resurfacing would be fluid. In this sense this transitional quality of memory can be a metaphor of Cologni's way of working, as she considers art in a similar way, neither only matter related, nor only ephemeral: its manifestations can vary and feed into each other.
Caterina Albano will prompt a discussion on the method, language and  possibilities of interdisciplinary collaborations, such as this.  Dr Caterina Albano is senior research fellow and curator for Artakt, Central Saint Martins College of Art and Design, University of the Arts London. Albano curates, lectures and publishes in the field of art and science, cultural theory, and cultural history of emotion, and on the theory of curating. She is the author of Fear and Art (Reaktion, forthcoming). Her recent work focuses on issues of memory, space and the moving image.
Her work as curator includes: research of Artakt's two major exhibitions Spectacular Bodies (Hayward Gallery 2000) and Seduced (Barbican Art Gallery 2007). For the latter, she curated The Voice of Sex. She co-curated the exhibitions Head On (Science Museum/Wellcome Trust, 2002) and The Genius of Genetics (Mendel Museum, Brno 2002).  She curated Psychoanalysis: The Unconscious in Everyday Life (Science Museum, Oct 2010-April 2011); Crossing Over: art, science, biotechnologies (The Royal Institution of Great Britain, Oct. 2008, Wellcome Trust and Arts Council award) and was the curatorial consultant for the Wellcome Trust for the exhibition Medicine and Art: Imagining a Future for Life and Love – Leonardo, Okyo, Damien Hirst (Mori Museum, Tokyo, 28th Nov. 2009- 2010), and First Time Out (20th January-22nd August 2011).
ROCKFLUID is awarded Grants for the Arts, Arts Council of England, within the Escalator Programme through Colchester Arts Centre, and is supported by Wysing Arts Centre and the University of Cambridge.
What Happened
Lisa talked about decay and interference in memory, and then she asked the audience to observe and write what they remembered of an image of a professor's office to demonstrate the level of interference from imagination on memory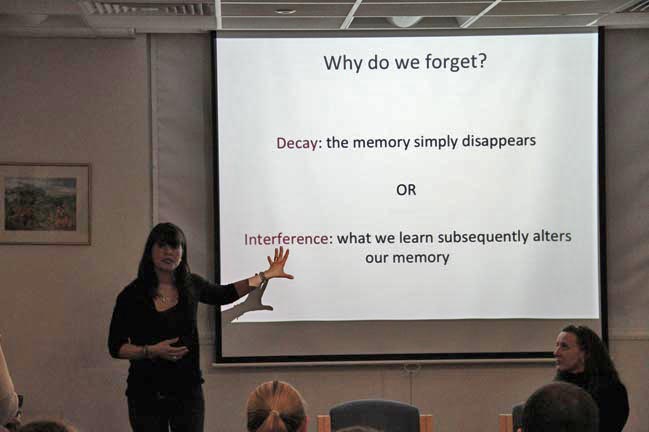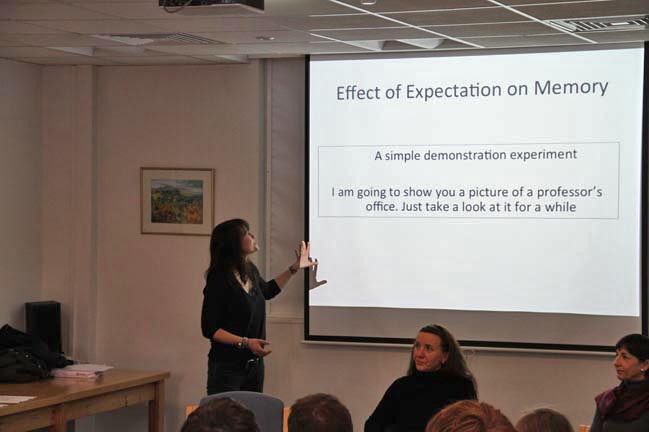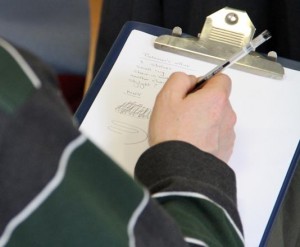 Caterina talked about the nature of interdisciplinary collaborations such as this from her experience as curator, and how emotions affect our way of remembering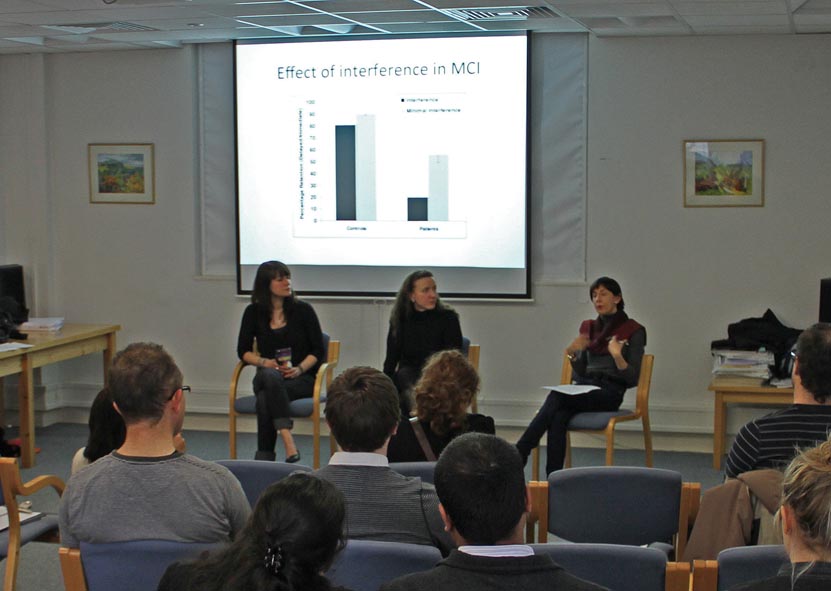 Elena set up two exercises to relate memory to experience of space
1- participants from the audience followed her walking and forming a shape in space. They were then asked to draw from the experience soon afterwards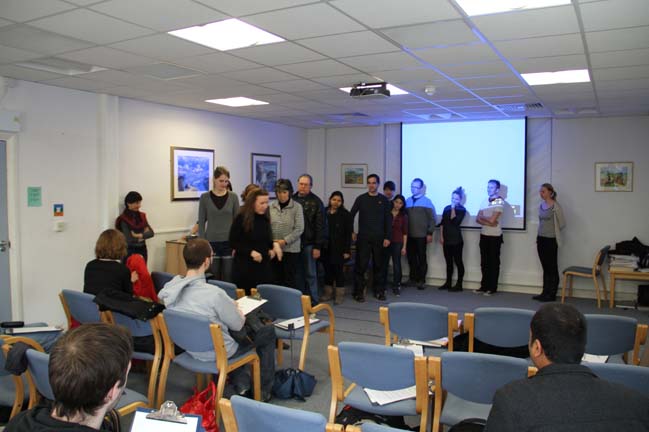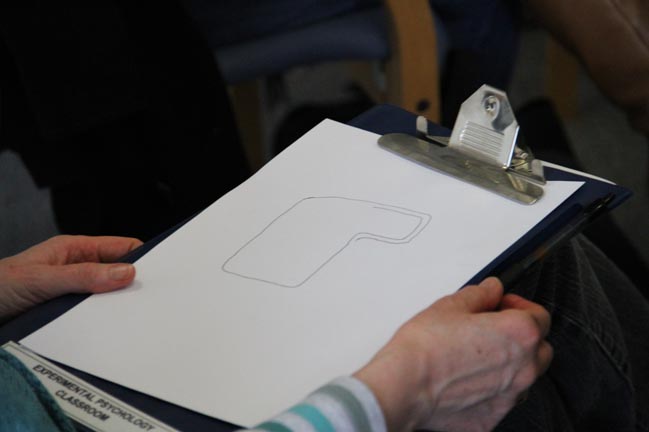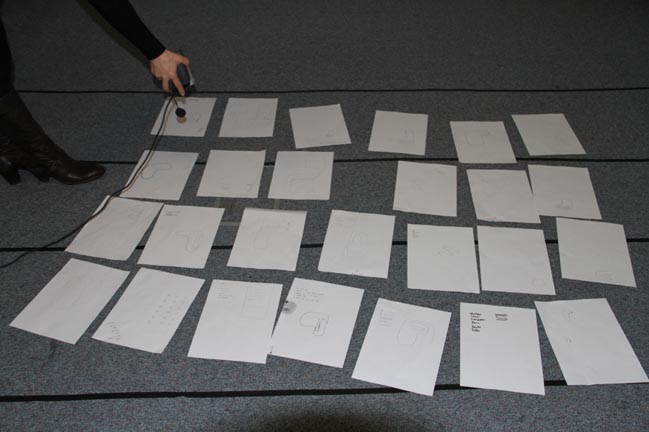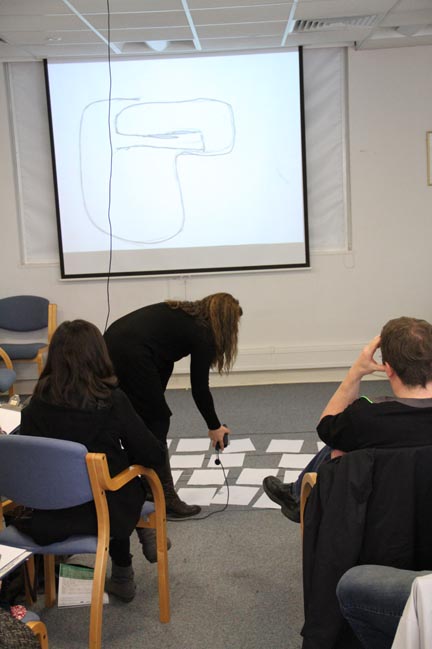 2- interference in memorising the experience of time (subjective time) and distance in the present. Participants are asked to walk over a line and write how long it took, two of them are wearing a silly hat. One of the participants was asked to hold a camera (conneted to a projector) recording the space proximal to their body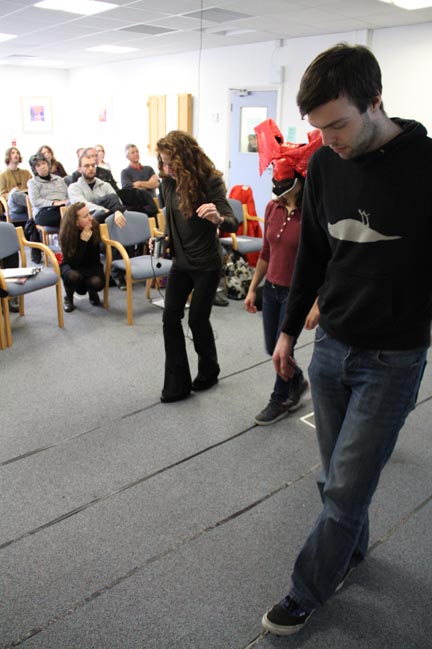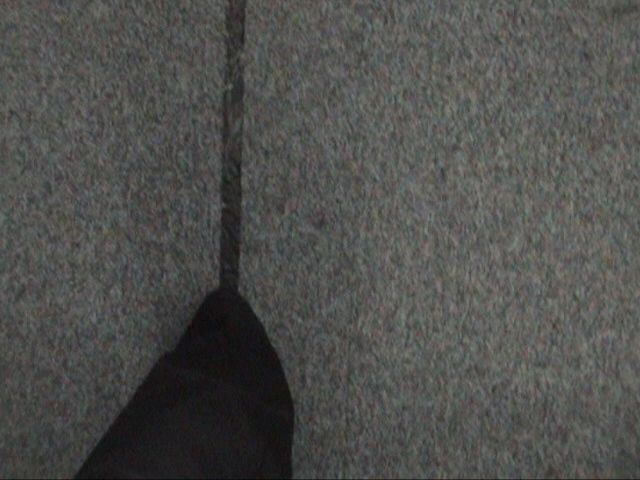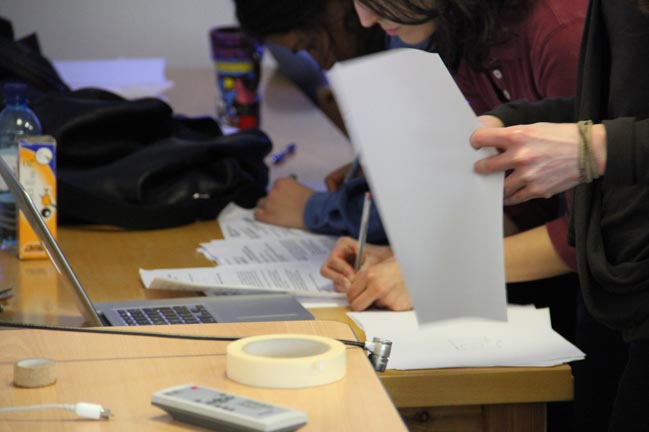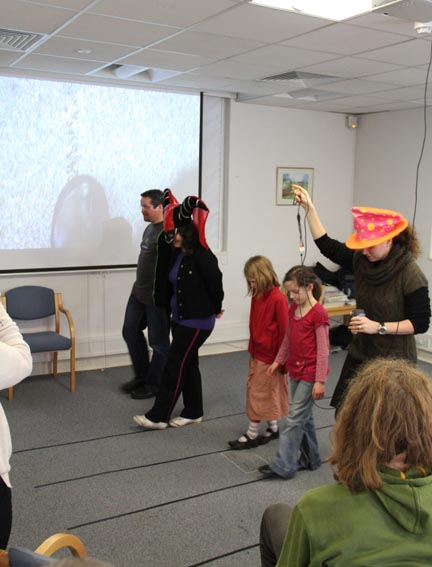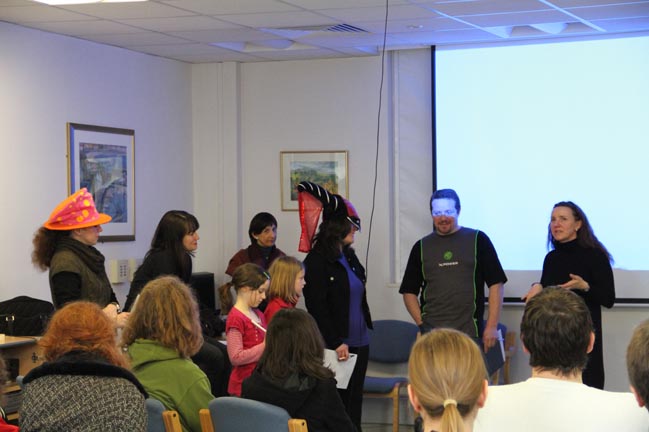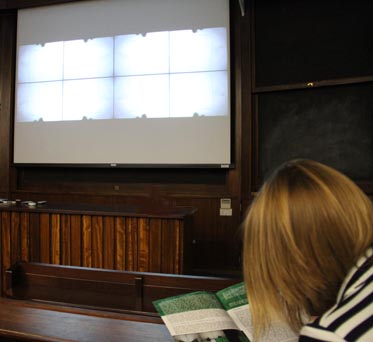 Screening of the work in progress on interference in the small lecture theatre
more information on content of the workshop 17 march (2)