Urban Interventions
Cambridge, VIEWS FROM ABOVE
'Limits of Seeing – Views from Above & Below'  @Institute of Astronomy, Sat 23rd June
The Institute of Astronomy in Madingley Road, Cambridge, is the wonderful venue for the second Limits of Seeing event which takes place on afternoon of 23rd June from 3.00 – 6.30 pm.  A series of family friendly art and science interventions will take place across the site, on the lawns and in the observatories as well as inside the main building, in the auditorium and in other spaces.  The event is free and is organised by Visualise in collaboration with the Institute of Astronomy, the Science & Technology Faculty at Anglia Ruskin and Wysing Arts Centre.  Participating artists will include heath bunting, Liliane Lijn, Marina Velez and Russell Cuthbert, Elena Cologni & Susie Olczak and participating scientists will include Dr Joao Linhares, Matilda Biba and Gerry Gilmore, Professor of Experimental Psychology, Institute of Astronomy.
http://visualisecambridge.org/?p=683
Limits of Seeing – Views from Above and Below is a collaborative event organised by Visualise in partnership with Institute of Astronomy, Cambridge  and Wysing Arts Centre curated by Bronac Ferran, Carolin Crawford and Elinor Morgan.
Elena Cologni, 'views from above', videoinstallation (Northumberland Telescope) + text installation (Hoyle Foyer libraryfirst floor) + site specific interventions (around site)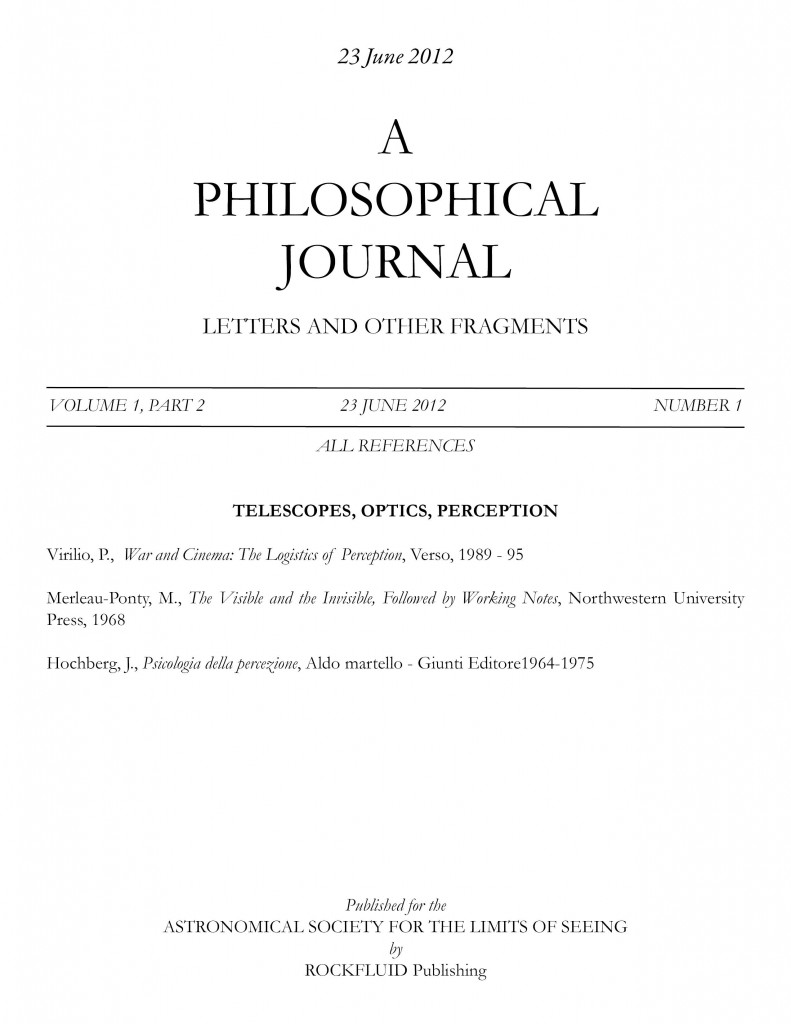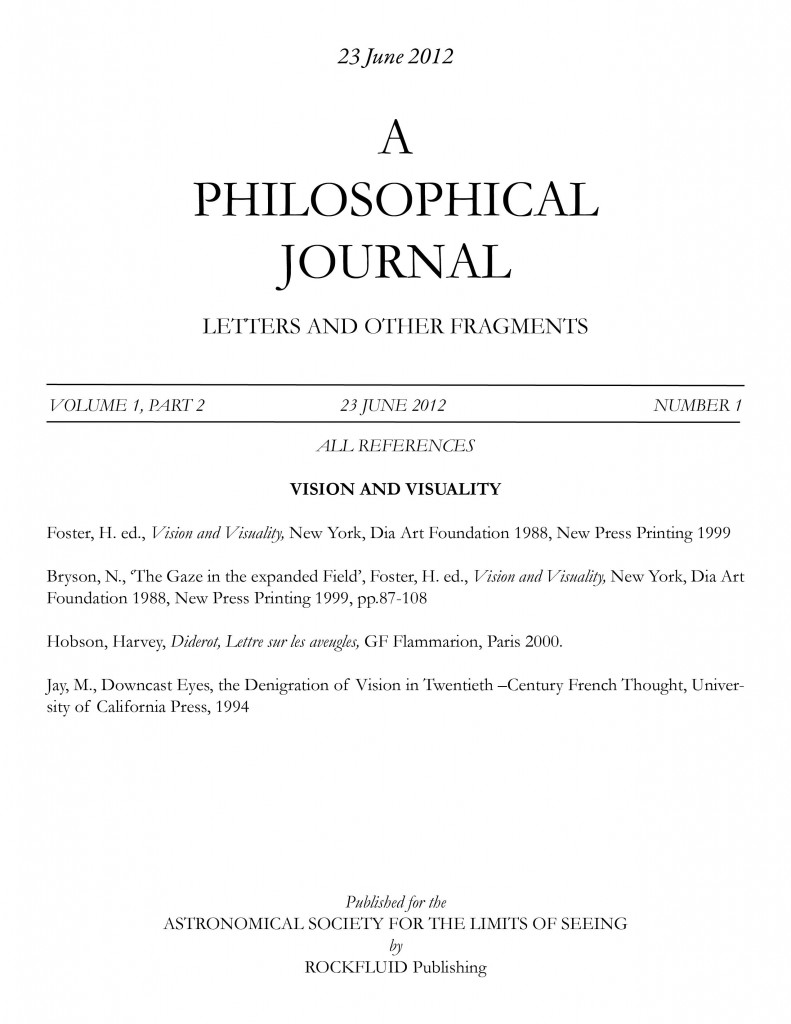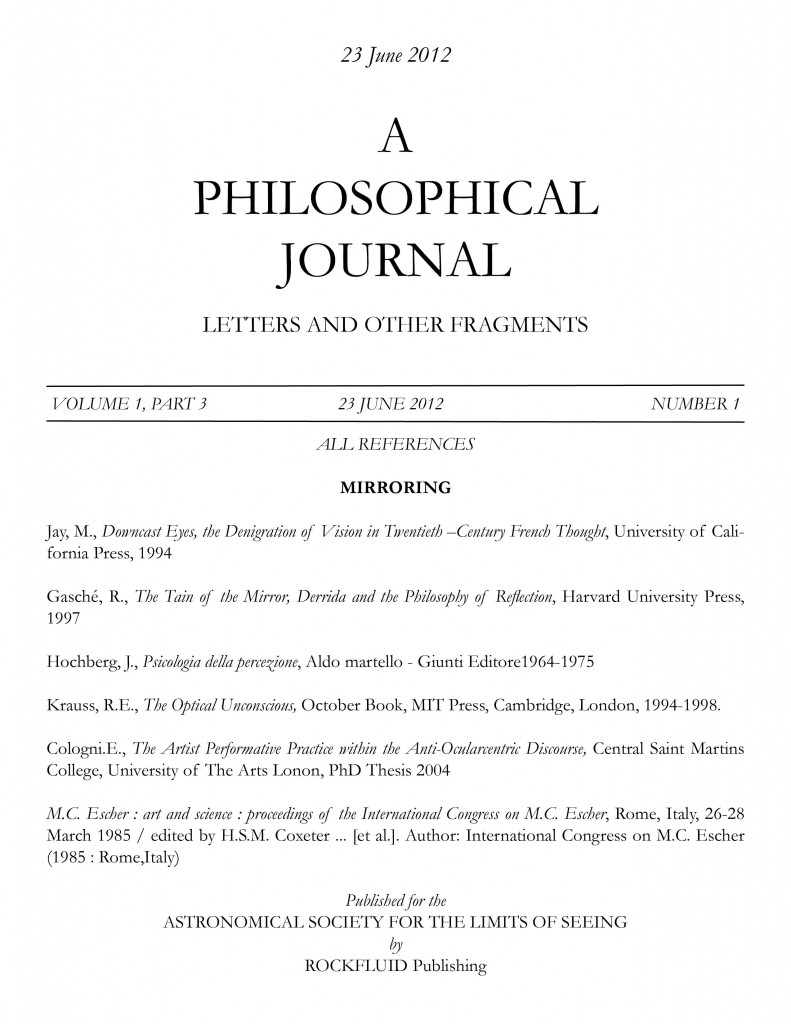 covers of series of paper publications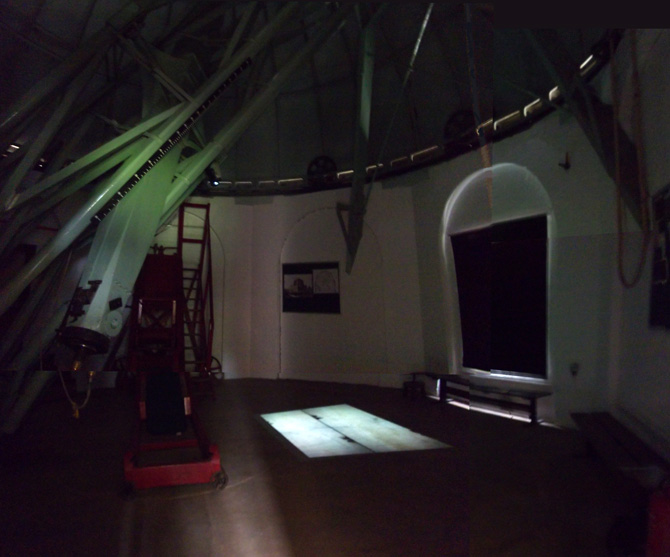 http://www.youtube.com/watch?v=x8BD0eb2EYQ&feature=youtu.be&noredirect=1
video installation in the Northumberland Telescope, Institute of Astronomy, Cambridge University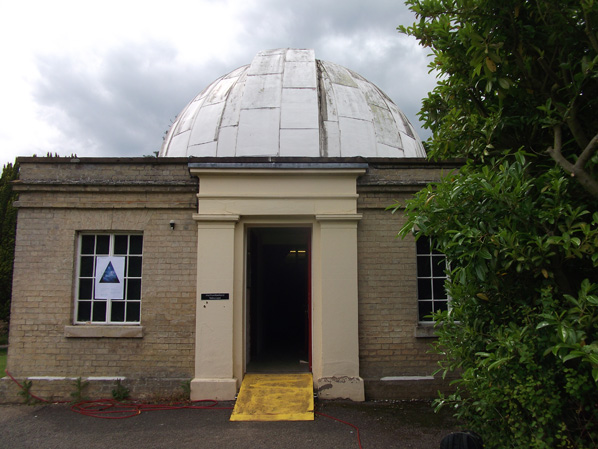 Cologni claims (since her PhD, 2004) that her art research is part ofthe critique to the ocular-centric discourse within western philosophy, withreference to Martin Jay. Yet, the fascination she has for perception and itspsychology, and geometry (all linked to the primacy of vision)  is a recurring aspect in her enquiry. Her criticalposition is manifested  throughoverturning given assumptions therein by adopting paradoxical formats,including: juxtaposing visual perception with physical positioning in space, drawing'proto-geometric', non-exact shapes, setting up contradictory researchhypotheses. In this context 'views formabove' is linked to her current project ROCKFLUID,residency at the Faculty of Experimental Psychology, Cambridge University, and itis built around a need to make the viewer aware of the space proximal to thebody. This in relation to a technology driven life where most of us becomeincreasingly familiar with (and hooked into) the views form above (GPS, Googleearth,NASA satellites). A way to feel in control, by locating ourselves in the world,which Cologni parallels to renaissance perspective systems, whereby the centralfocus perspective represents  man, butalso God, the eye is God. Telescopes were built applying optics and perception studiesand while telescopes offer a 'view from below' outwards in the universeCologni's work creates a critical context where the above connections becomeapparent.
Bio. Elena Cologni is studio artist at Wysing Art Centre and Artist in Residenceat University of Cambridge, Faculty of Experimental Psychology. She studied atBrera Academy of Art, Università Statale in Milan (Italy), University of Leeds,and she has a PhD from Central Saint Martins College, London  (1999-2004, Fine Art with Philosophy and Psychology).She was awarded from the Arts and Humanities Research Council for her Post Doctoralproject at Central Saint Martins addressing issues of memory and liveness(2004-2006), Research Fellow at York Saint John University (2007-2009) when herwork became primarily site specific and participatory (www.elenacologni.com/experiential). She was selected for a residency at Centre for Contemporary Arts Glasgow (2006),participated to Glasgow international (2008) and  received funding from Arts Council of Englandfor a project at Yorkshire Sculpture Park (2009). Her current residency is fundedby Arts Council of England, Escalator Program through Colchester Arts Centreand is supported by the University of Cambridge and Wysing Arts Centre.