Workshops
THE LONDON STUDIO CENTRE
Elena Cologni
SPA(E)CIOUS PRESENT
Dynamics of collective and individual experiences of space and duration within specious present, adopting technologies for enhancing audience engagement, while producing forms of documentation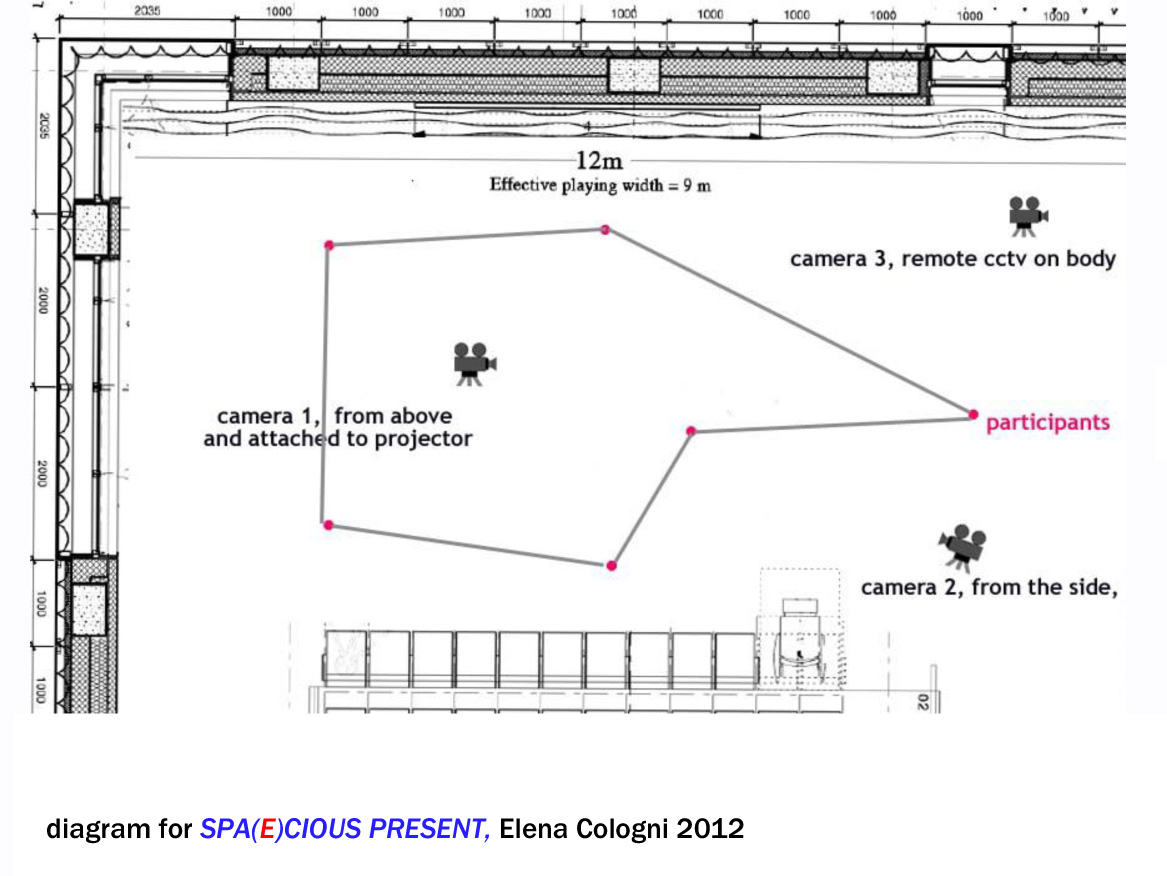 RATIONALE. The workshop (participatory live installation) is based on the multidisciplinary approach of my current project Rockfluid, where participatory site specific art practice is underpinned by elements of cognitive psychology and philosophy. Hence, here the relationship Memory – Time – Perception is informed by Bergson's notion of the present within duration and as produced by the body in space, and by Merleau-Ponty's reference to 'sensation' as the basis for knowledge. On the other hand the role of memory in the present is seen from a shared perspective (psychology and philosophy of science) including the definition of specious present as well as the nature of retention as involving perception of duration.
METHODS. This is a form of peripatetic practice, where produced and shared knowledge informs the artist's creative process. It also creates the physical and psychological conditions to enhance an awareness of the perception of time and space.
WHAT. Three exercises involving technology on: memory in the present, digital time – subjective time, technology in perception and memorization of place, will result in microphies.
FURTHER INFORMATION
BACKGROUND. In Cologni's PhD (2003), the relationship artist-audience is defined as the process of fruition: non simultaneous and happening through stages, and time. The time gap is instrumental for generating the interchange. This relationship operates first in the artist's mind, then in the moment of the physical sharing of a space and after, when the audience meets the work's documents again. In this, liveness is synonymous with continuous present, duration. It can be expanded to include the artist's conception of the piece, its delivery/reception also when the artist is gone. In this sense the meaning of the work continually shifts, to a future present moment (just like when we recollect in the present). Her mediatised performances, installations and video manipulation point at the unstable nature of perception and memorisation of reality through time. ROCKFLUID, based on a collaboration between artist Elena Cologni and Psychologist Lisa Saksida, Department of Experimental Psychology, Cambridge University, is awarded by the Arts Council of England (Grants for the Arts Escalator program) through Colchester Arts Centre, and it is based at Wysing Arts Centre. Memory, perception and place in the digital economy are central to the project.
BIOGRAPHY. Dr Elena Cologni's live, installation and performance wook, and related tangible translations/manifestations, is grounded in conceptual art. Cologni has a PhD from the University of the Arts London, Central Saint Martins College of Art and Design, with the thesis: The Artist's Performative Practice within the Anti-Ocularcentric Discourse. Her post doc project Present Memory and Liveness in delivery and reception of video documentation during performance art events', received an AHRC Grant (2004-2006). In the outcome Mnemonic Present, Un-Folding series of 2005-2006, the use of 'live-recording' and 'prerecording' opened up questions on the involvement of the audience and their perception of what is present and represented, generating a form of 'mnemonic present' (also with the use of the time gap in live projections). She was Research Fellow at York Saint John University during which time she developed the project Experiential (Re-Moved 2008, CCA, Glasgow, Gi08 and Geomemos, Yorkshire Sculpture Park 2009), when site specificity and notions of memory as archival and removal in trying to enhance the audience's and her own experience of the self in any given moment. She is particularly active in the discussion on Research as Practice, interdisciplinary and participatory research, and she contributes with her expertise to the Cambridge University, Faculty of Education, Mphil Arts course since 2008.
at
How Performance Thinks
A two-day conference co-organized by the PSi Performance and Philosophy working group and Kingston University's practice.research.unit
April 13th-14th 2012
The London Studio Centre, London
http://www.london-studio-centre.co.uk/Â Â  http://www.practiceresearchunit.co.uk/Â Â Â Â Â  http://psi-ppwg.wikidot.com/london-2012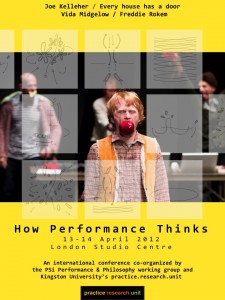 This conference brings together practitioners and scholars concerned with the question of how performance thinks from a wide range of overlapping perspectives
and contexts including practice-as-research, professional practice and the emerging sub-field of 'performance & philosophy'. Can performance be
understood as a kind of thinking in its own right? What value might such an understanding have for performance and philosophical research, for academia and
for practices operating outside the academy?
With plenary speakers:
Vida Midgelow, Joe Kelleher and Freddie  Rokem
A work-in-progress showing of a new performance by Every  House Has a Door (Lin Hixson, Matthew Goulish, Bryan Saner, Stephen Fiehn,
and Tim Kinsella)
And presentations by: Stephen Bottoms / Jennifer Duffy / Thomas Richards / Simon Jones / Tender Buttons Theatre Company / Joana
Craveiro / Broderick Chow / Esa Kirkkopelto / Theron Schmidt / Julie Solovyeva / Tero Nauha / Stefanie Sachsenmaier / Kelina Gotman / Josefine Wikstrom / Augusto Corrieri / Moritz Gansen and Elisabeth Schilling / Charlie Saffrey / Katja / Jessica Walker / Joa Hug / Bernadette Anzengruber / Stefanie Husel /
Elena Cologni / Rosanna Irvine / Shaun May / Peter Boenisch / Rebecca Hillman / Joao Florencio / Nik Wakefield / Gabriella Calchi Novati / Alice Lagaay / Franziska Schroeder / Shimon Levy / Simon Bowes / Helmar Schramm / Mark
Greenwood / Michelle Graves / Sophia New and Siegmar Zacharias / David Levin / Rebecca Groves / Noyale Colin
WHAT HAPPENED

from a participant's viewpoint (thank you Michelle)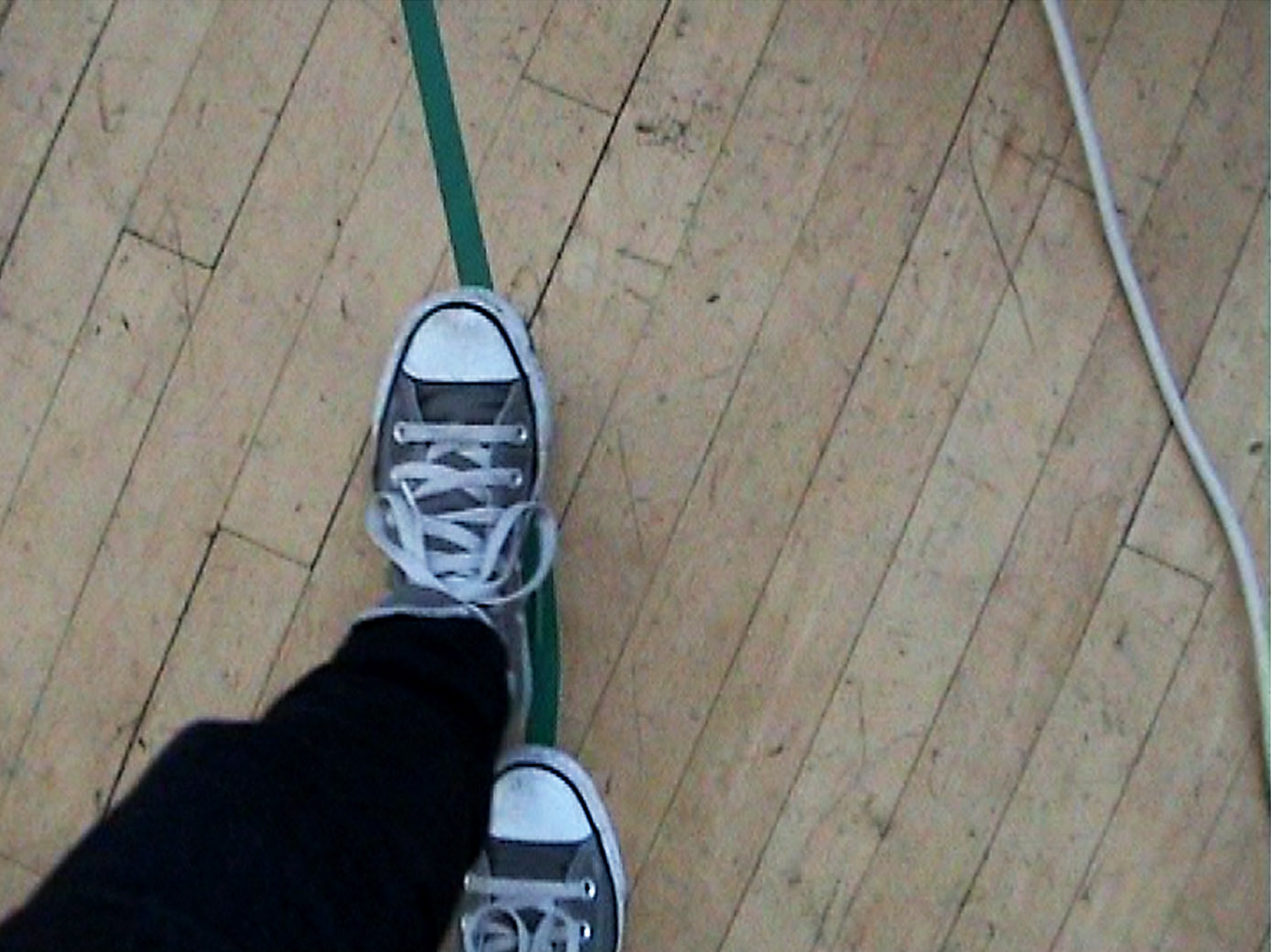 how long  did it take? Which shape was it?